1. General Introduction
Yunhe Talents' Apartment locates at No. 11 of Guanjinggang Road, Haining, about 8 km / 30-min car-drive to the International Campus (hereafter referred as IC).
Currently apartments in 4# Building of Yunhe are available for application. All the apartments are 67 m2, two-room (bedroom & study), equipped with a full set of furniture, appliances and bedding.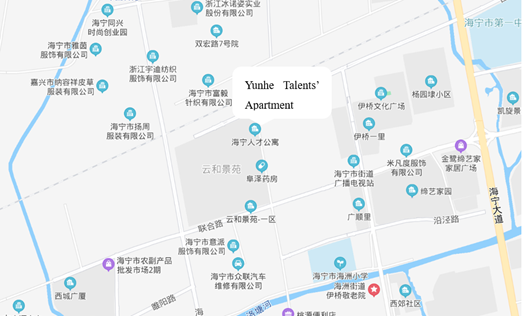 Pic.1 Location of Yunhe Talents' Apartment
2. Facilities and Services
2.1 Bed linen: 1.5 m bed linen.
2.2 Furniture: wardrobe, tea table, desks, chairs.
2.3 Appliances: air conditioner, refrigerator, washing machine, TV, range hood, induction cooker, electric kettle, electric water heater.
3. Charge Standard
Charge Standard for Yunhe Talents' Apartment
Apartment Type

Apartment Code

Room Type

Size (square meters)

Monthly Usage Fee (RMB)

Yunhe Talents' Apartment

B1/B2

Two-room

67

1150

(Rent 1020 + Property fee 130)
Parking fee: 80 RMB / month for ground & 120 RMB / month for underground parking.
4. Application
Two ways for application:
(1) Online application
Browse the housing information and submit the application via the apartment application system:
https://coc.intl.zju.edu.cn/zh-hans/coc_room_rent_index
(2) Offline application
Download and fill in the Teachers' Apartment Application Form of IC ZJU, complete and submit the application form.
https://coc.intl.zju.edu.cn/zh-hans/content/868752 (Form B2)
5. Room Types
Type B1: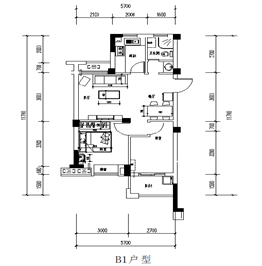 Pic.2 Layout Plan of Yunhe Talents' Apartment, Type B1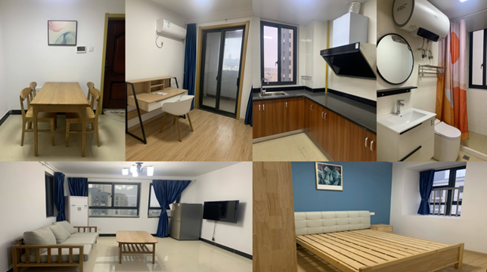 Pic.3 Photos of Yunhe Talents' Apartment, Type B1
Type B2: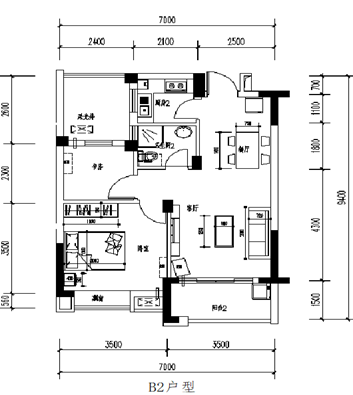 Pic.4 Layout Plan of Yunhe Talents' Apartment, Type B2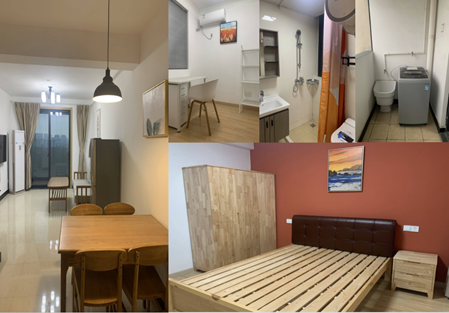 Pic.5 Photos of Yunhe Talents' Apartment, Type B2