ID Card is offered for teachers and students in the international campus. It can be used for book borrowing, catering, self-printing, access control, hot water control, shopping, shuttle bus etc.
Classification
ID Card is classified by personnel identity, please refer to the following table to see the classification of ID Card. Please visit this services website: http://zuits.zju.edu.cn to learn more information.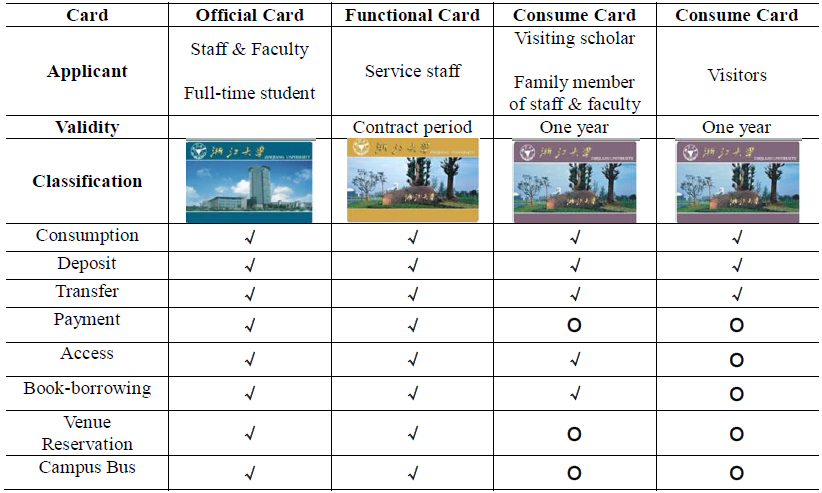 Guidelines
Principles:One person, one card, do not lend or transferred it to others.
Password:The default password is the last six number of identification card/passport number (if the last number is letter, please do not contain it). If the number is less than 6 units, the default password is 888888.
Recharge:ID card could be recharged by cash in CSC service desk (1F, Student Service Center), or by automatic transfer (transferred from bank card automatically, the binding business could be transacted at CSC), or by self-service device.
Lost or Stolen :
Immediately login in http://ecard.zju.edu.cn/ , enter the ID card number and password to report loss or stolen;
Call CSC service desk (tele: 87572255);
By self-service terminal (the balance>20 yuan) in Campus Service Center;
Go to CSC service point to report this event.
Thaw / Hanging:Bring personal valid credentials (ID card or passport) to service point in CSC (1F, Student Service Center).
Entrustment:6) Due to special reasons, students or teachers who cannot go to CSC personally, they need to propose this event to the Institute and take valid credentials (agents' and ID card's owner) to CSC (the copy of original is not valid).
Temporary card:(3 months valid). It is valid only by declaring, handling and refunding by department. Individual temporary card is valid one day and cannot report loss or reissue. If ID card hasn't been used for more than one month valid term, the management fee will be charged.
Contact Us
Address: CSC reception (1st Floor of Student Center)
Time: Mon-Fri 7:30– 17:30 Sat-Sun 8:30–17:00
Tel: 0571(0573)-87572255
E-mail: COC_Intl@zju.edu.cn